NATIVE APP DESIGN
Case Study: ASOS Shopping 
Assistant
The majority of ASOS's online traffic and purchases are now taking place through their native app. They are continuing to push the possibilities for rich, personalised interactions this platform affords. With a huge catalog of products that is being added to every week they are focusing on smart ways to surface products that are meaningful to their customers in the moment. With the goal of reducing the abandonment rate of products being placed in a customers cart and not taken through to checkout.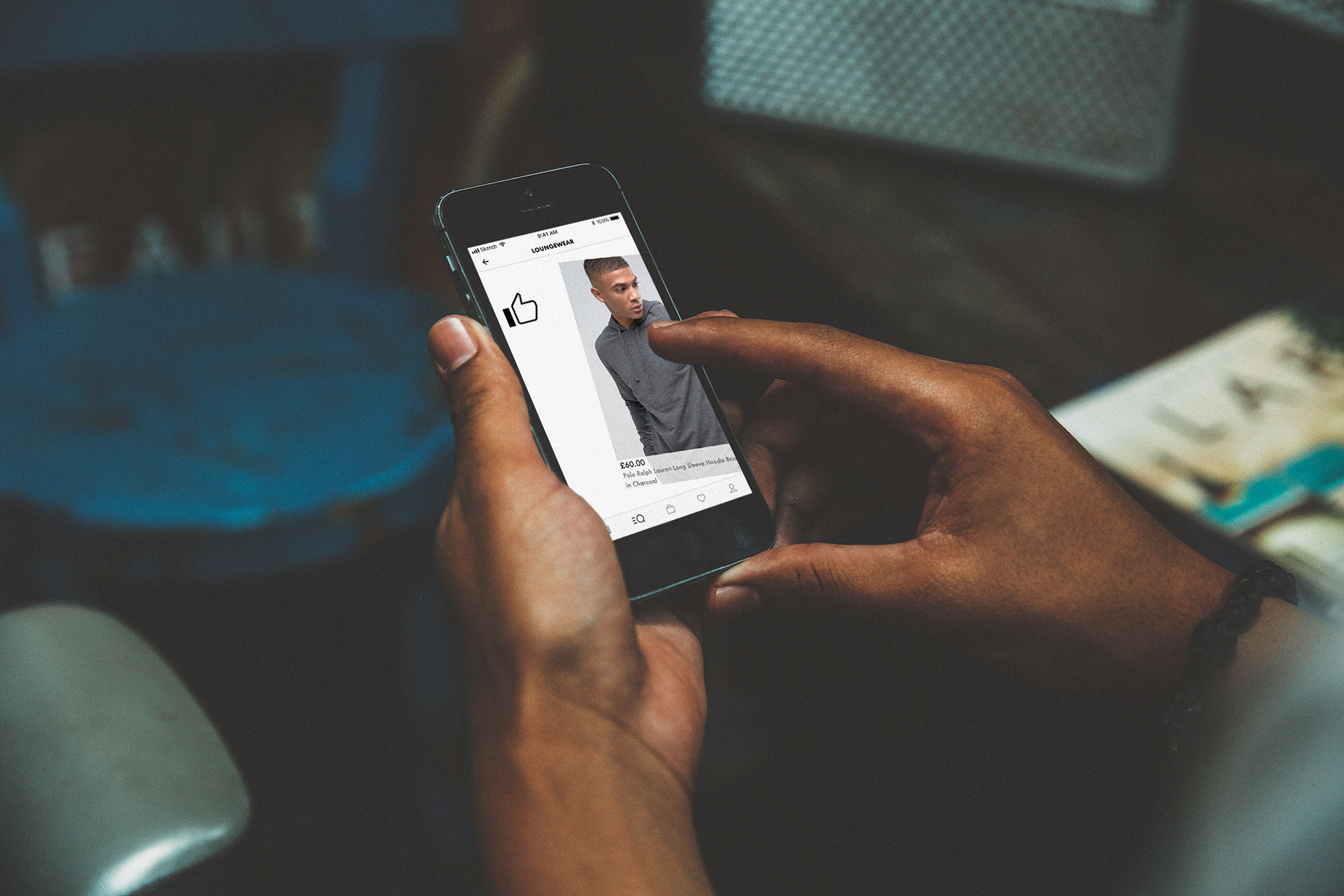 The search for new shoes. Discovering opportunity.
With mobile and online shopping comes the desire to research, shop around for the best deal and try before you buy. All of which delay and complicate the process of making a final purchase decision. Add to this endless lists of results and filtering functionality that isn't very communicative and only does half the job. It can be a long and arduous process to find that perfect product you were looking to purchase.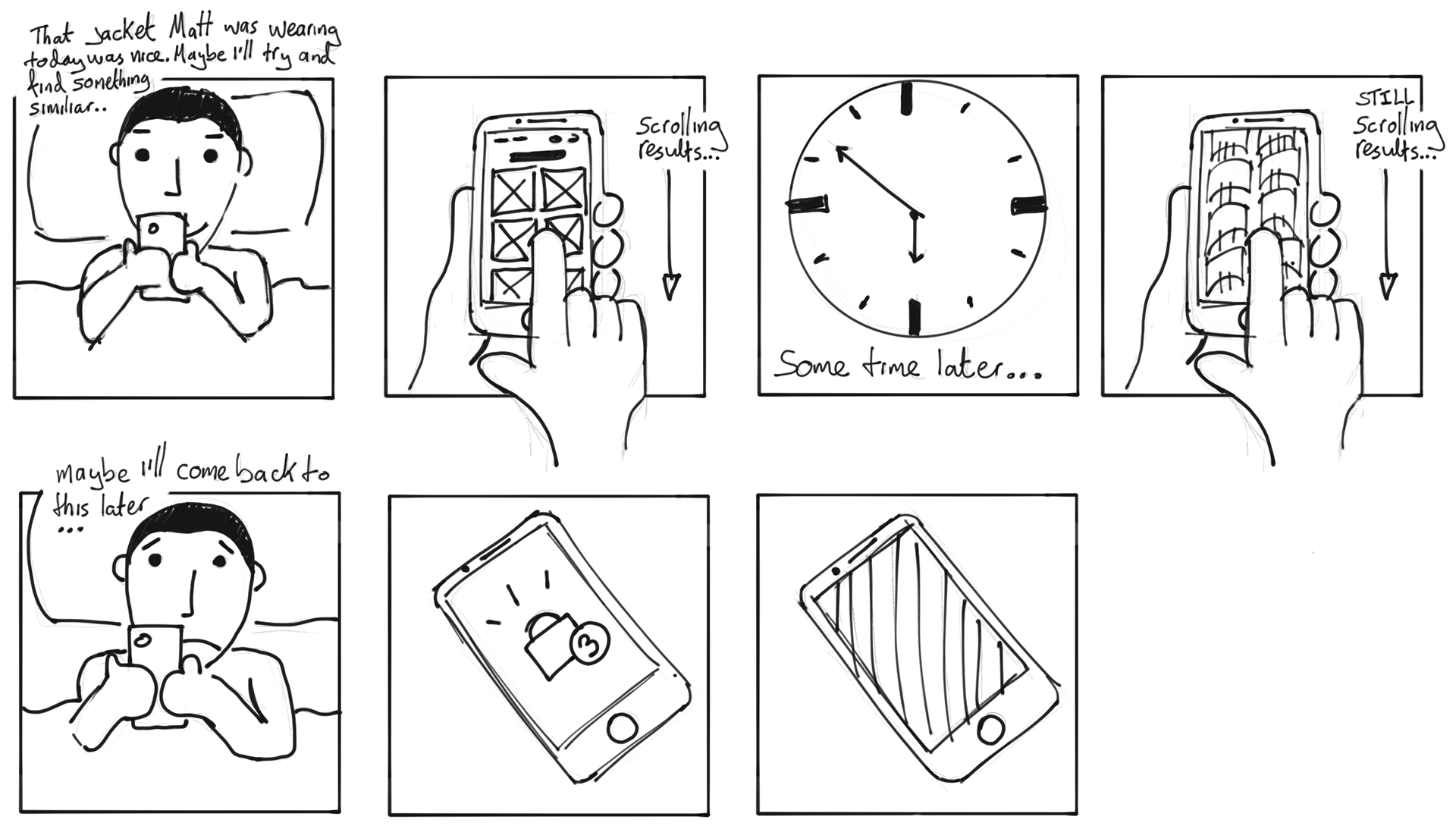 The future of e-commerce. Gathering context.
20 somethings are relying more and more on their mobile devices to be there shop anywhere assistants. A study by Big Commerce highlights the fact that for these millennials the larger percentage will prefer to shop online and the biggest product category in which their spending is clothing and footwear. The same study points to the trend of an increasing desire for rich content, including video and photography, that allows customers to better experience a product they aren't able to physically touch before they are willing to buy. 
There is an excitement and demand by consumers for new innovative ways of discovering the right product at the right moment. The future of e-commerce is increasingly adaptive and predictive platforms offering consumers a unique shopping experience personalised just for them.
Interviewing to find insight at every why?
Why do you use the ASOS app to shop for clothes/ fashion? What do you want to do?
I want to find a specific thing that I have in mind for purchase.
I'm looking for inspiration and don't know where to start.
How do you go about doing this? Walk me through the steps you take.
On the results page I will continue to scroll until something interesting catches my eye.
Until I have saved a good amount of options I don't use filters because I feel unsure of what I'm really looking for.
To much scrolling and I become disinterested and impatient.
I look for rich imagery and curated selections to get me inspired and start my search.
Do you prefer shopping in-store or online? Why?
Imagery, videos, reviews, style advice and other details that aren't specifically just about the product (like material and fit) help build confidence in my purchase.
I'm anxious about a product going out of stock and get annoyed with myself if this happens.
When making a decision between multiple options I will look at the smaller details like material and brand name.
I don't want to be surprised by shipping costs during checkout it makes me rethink the cost of my items which is just another hurdle I have to clear before purchasing.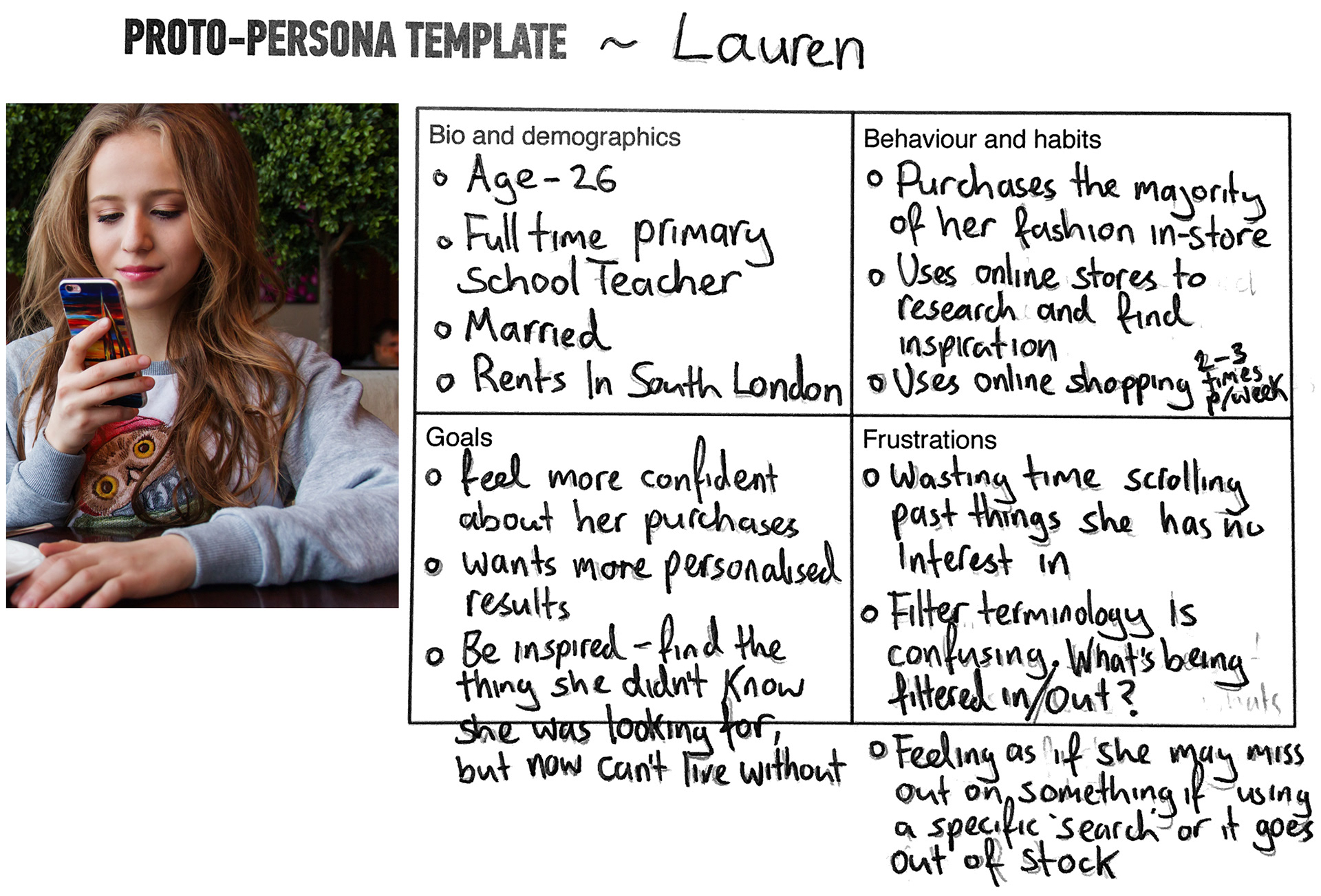 A clear direction and goal to focus on.
A fashion conscious, 20 something millennial who feels exhausted when scrolling seemingly endless amounts of product results needs to find that specific product they are looking for but faces the task of swiping past products they have no interest in and setting filters when they are not completely sure what product they relate to and only do part of the job of getting rid of meaningless products.
How might we…

make the action of filtering products more flexible and personal to the customer trying to discover that perfect product among the vast list of everything thing else we are selling.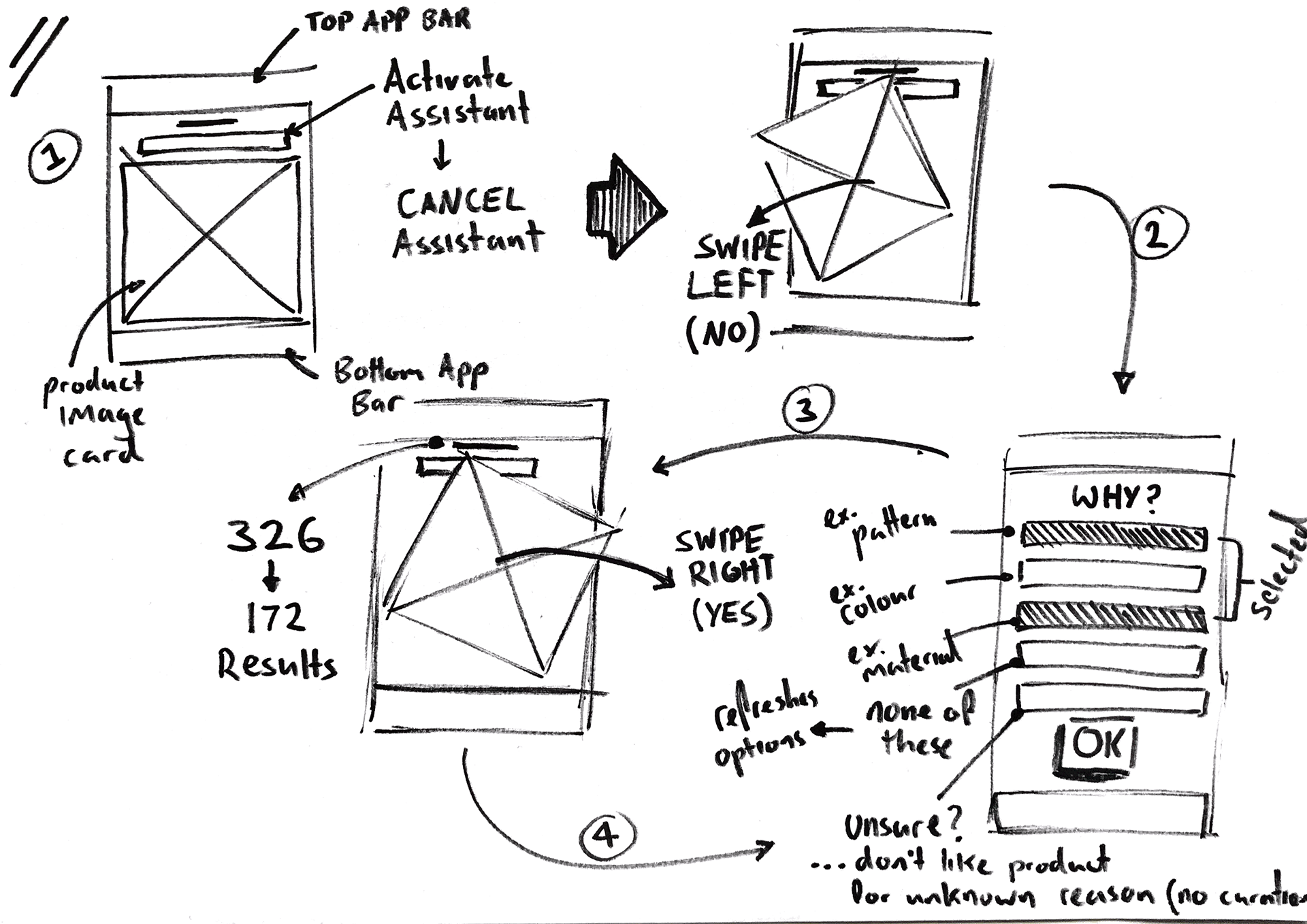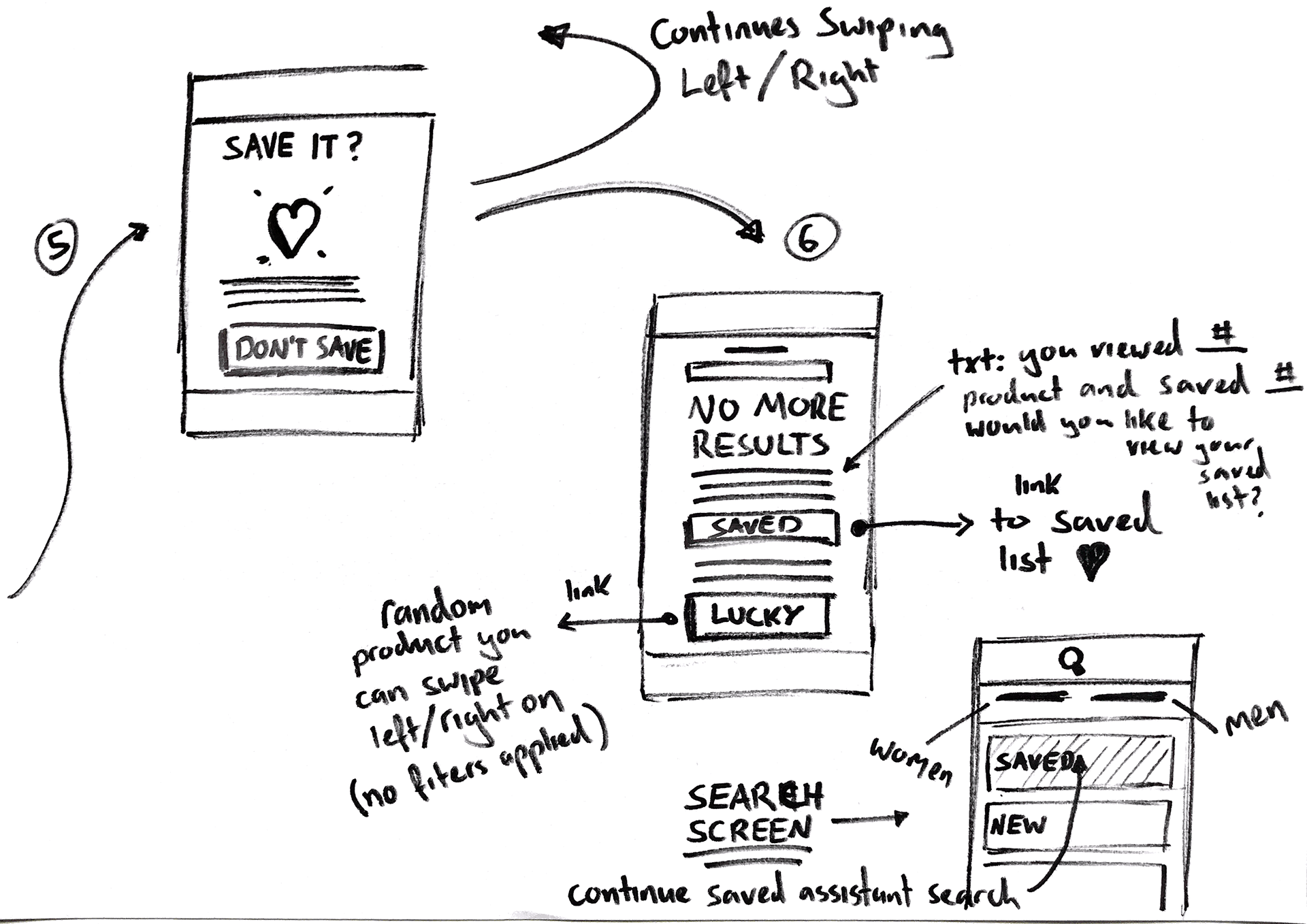 Job Story - How is it done now?
(Situation)

When… I have a particular clothing item I'm interested In. I open ASOS's app to see if I can find and maybe purchase it.
(Motivation)

I want to… Avoid wasting time scrolling past results I'm not interested In. To this end I will select a specific category and use product filters.
(Outcome)

So I can… Discover products that interest me the most while feeling like I haven't missed out on anything. So when I go to make my purchase I'm confident In my final decision.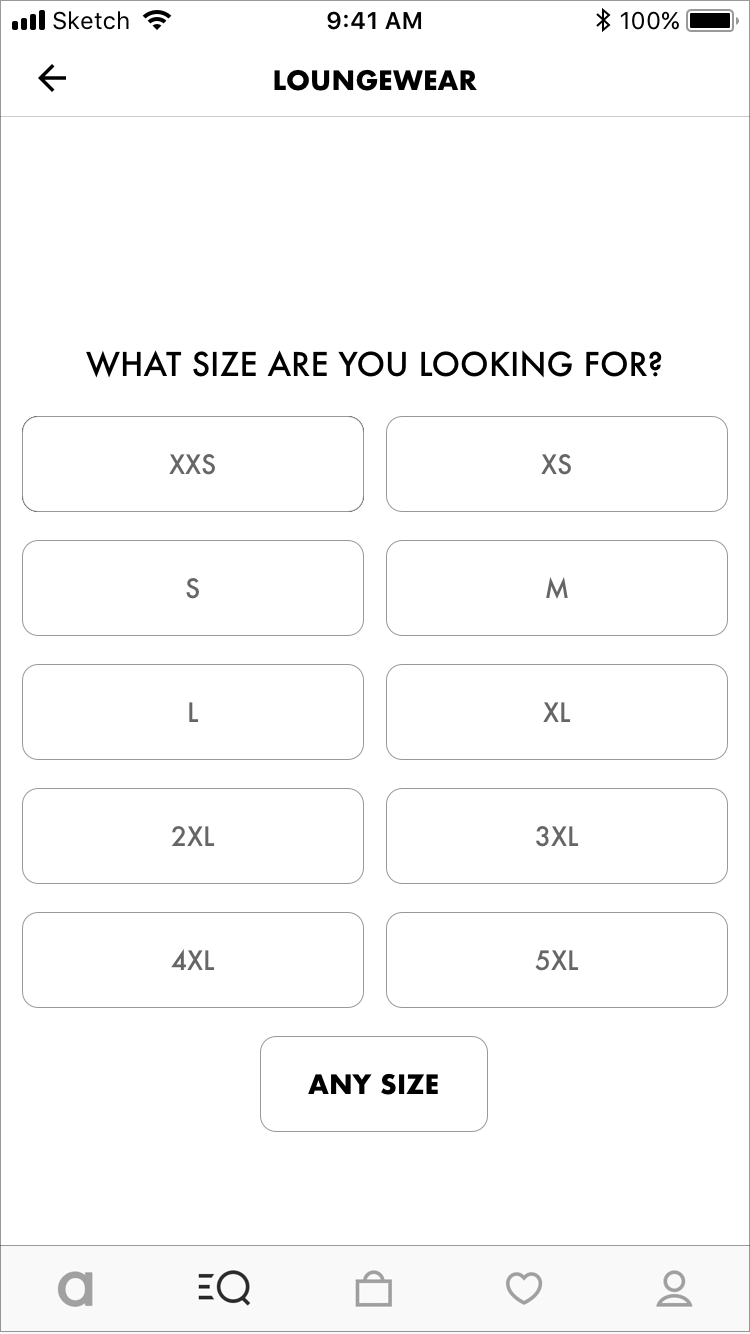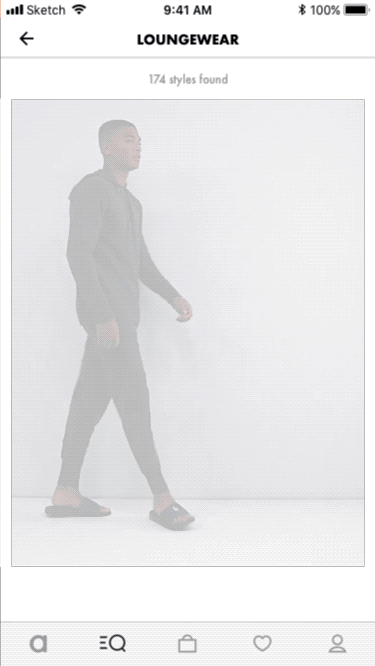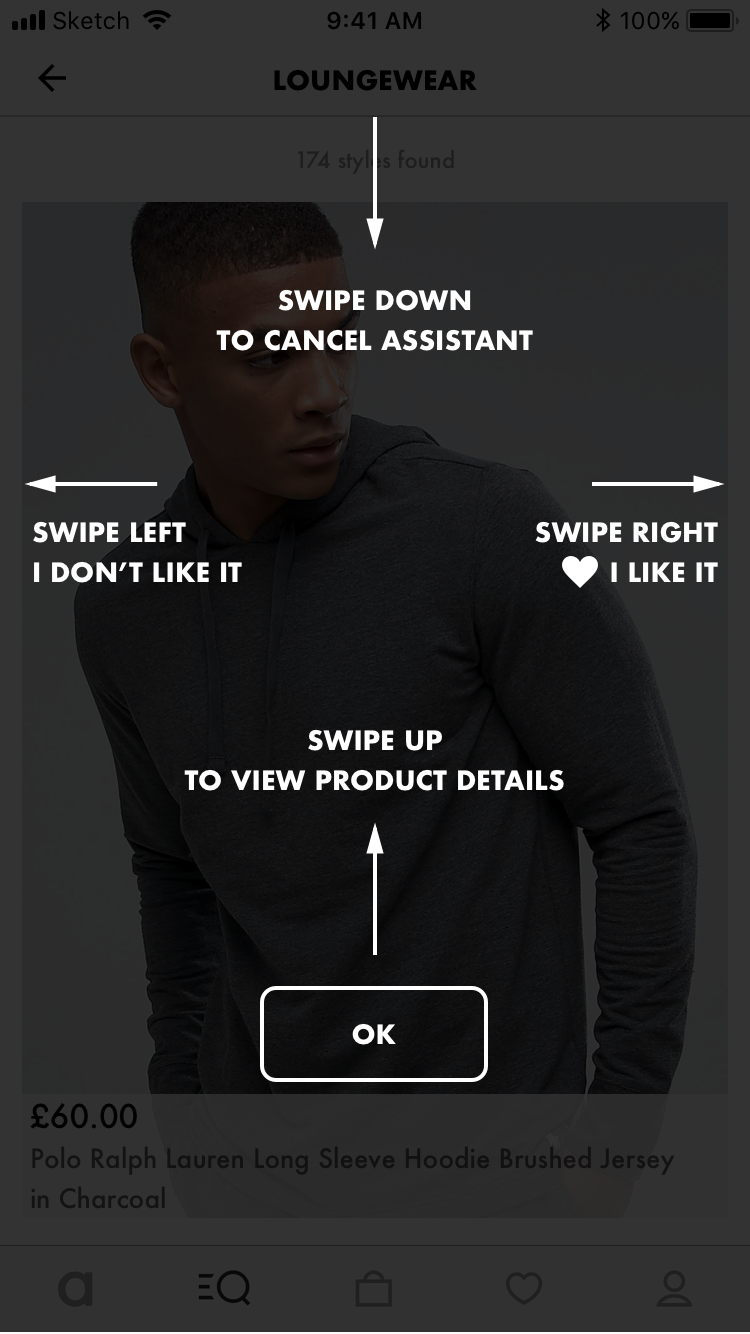 Prototype, test, iterate.
Observation: Recurring action where testers brought up the product details page to view runway videos for products of interest.
Iteration: Product cards default to runway videos over images. This removes need of 2 additional actions. For customers using the app on a mobile network an option is given to default to images instead.
Observation: Confusion on what to do when first product card appeared.
Iteration: Single on-boarding screen introducing 4 swipe interactions.
Reflection: From earlier research multiple interviewees noted this step taken when shopping online.
Iteration: Adding in size as first question to avoid customer saving something that was not in stock in their size.
Feedback: One tester noted a desire to see their applied filters.
Decision: Though this made sense in terms of visually communicating to the user that filters were being applied and were theirs to control. However introducing this feature would negate the quicker decision making on products and the clearer relationship shown between products and filters. No iterations made.

Exploring interactions in motion.
Decision was made to use Framer. A powerful prototyping tool that enabled me to better describe and explore how the interactions and interface worked. This was also an opportunity to improve my confidence with the tool and experience working with Javascript. Growing my understanding of the challenges faced by developers and how we may collaborate to build solutions together, with the potential to input live customer data for more realistic prototypes.
 ​​​​​​​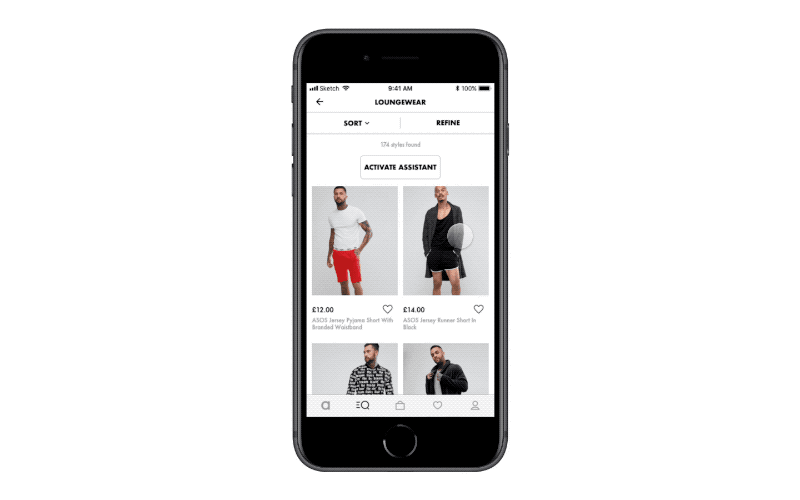 Final outcome and going forward.
The final solution is a different approach to product discovery that does not overwhelm customers tired of scrolling large results lists. By making filters more category and even product specific greater control is placed in the customers hands to view only the most relevant and personalised results. Along with greater screen real estate to maximise customer engagement and build confidence in that final purchase. Moving forward it will be important to measure the homepage call to action to try out the assistant as well as the abandonment rate of incomplete assistant sessions and product left in cart. 
Finally an area of interest for future exploration is the added functionality of the assistant feature being able to build a complete and personalised outfit for customers.
ASOS Assistant
Let's Try Something New On!
​​​​​​​