ACE Hotels
are building their brand and extending the hospitality they provide their guests through the introduction of a new experience booking service. Making those guests feel at home among close family and friends. With the goal of increasing customer loyalty and repeat/ word of mouth bookings.
Our Contributions:
Project Brief Construction/ Strategy, Customer Research, Prototyping and Testing, Visual Design.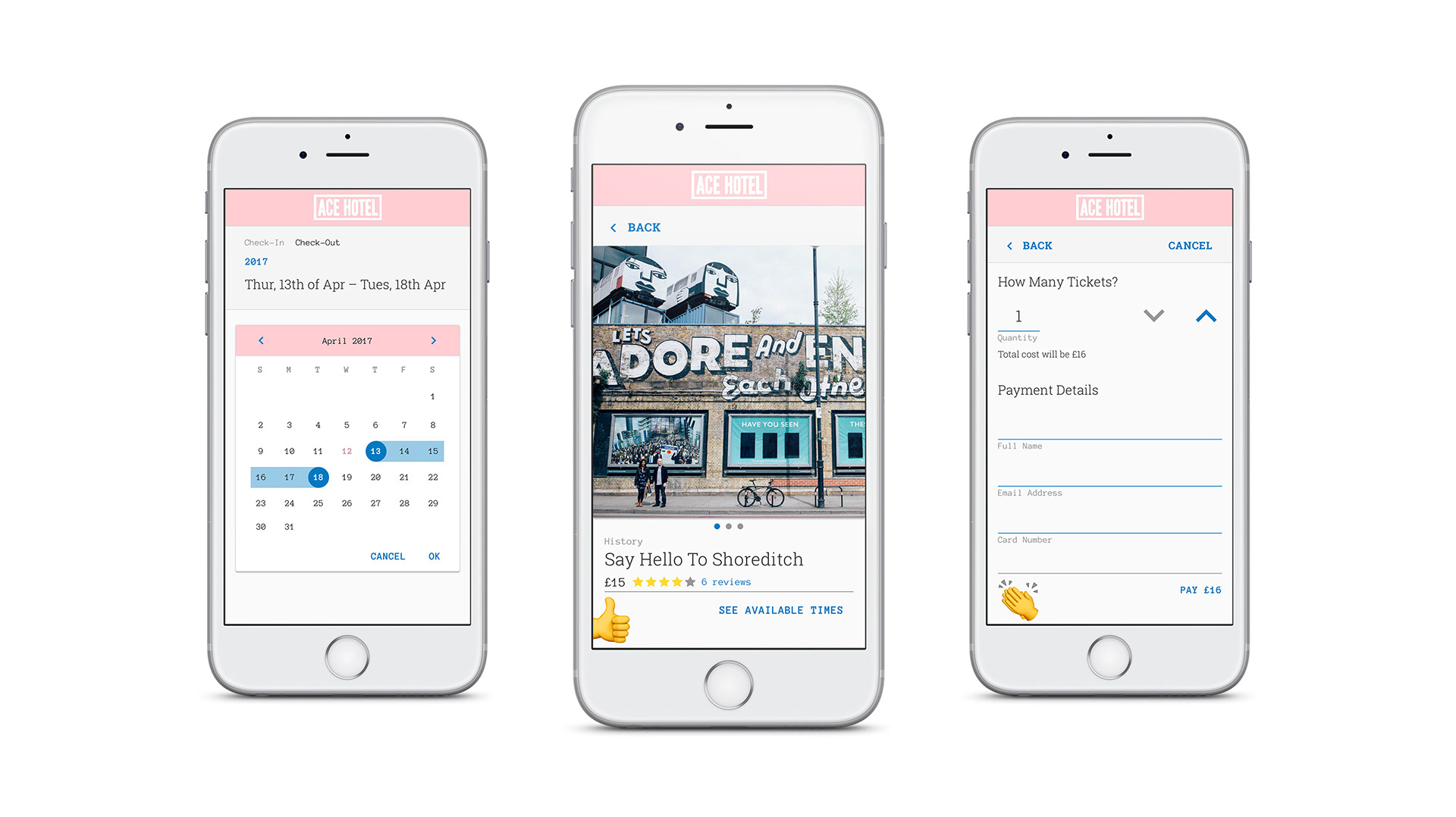 When arriving at their destination, travellers are increasingly relying on their mobile devices to get the most out of their time at their chosen destination. Helping them get their bearing as well as finding and/or booking something at a moments notice.
During a 2 week timeline 2 other UX designers and myself designed an end to end experience that introduced customers to a new experience booking service. Creating enduring excitement for the end goal throughout customer discovery and booking and onto getting to; and ultimately having the experience.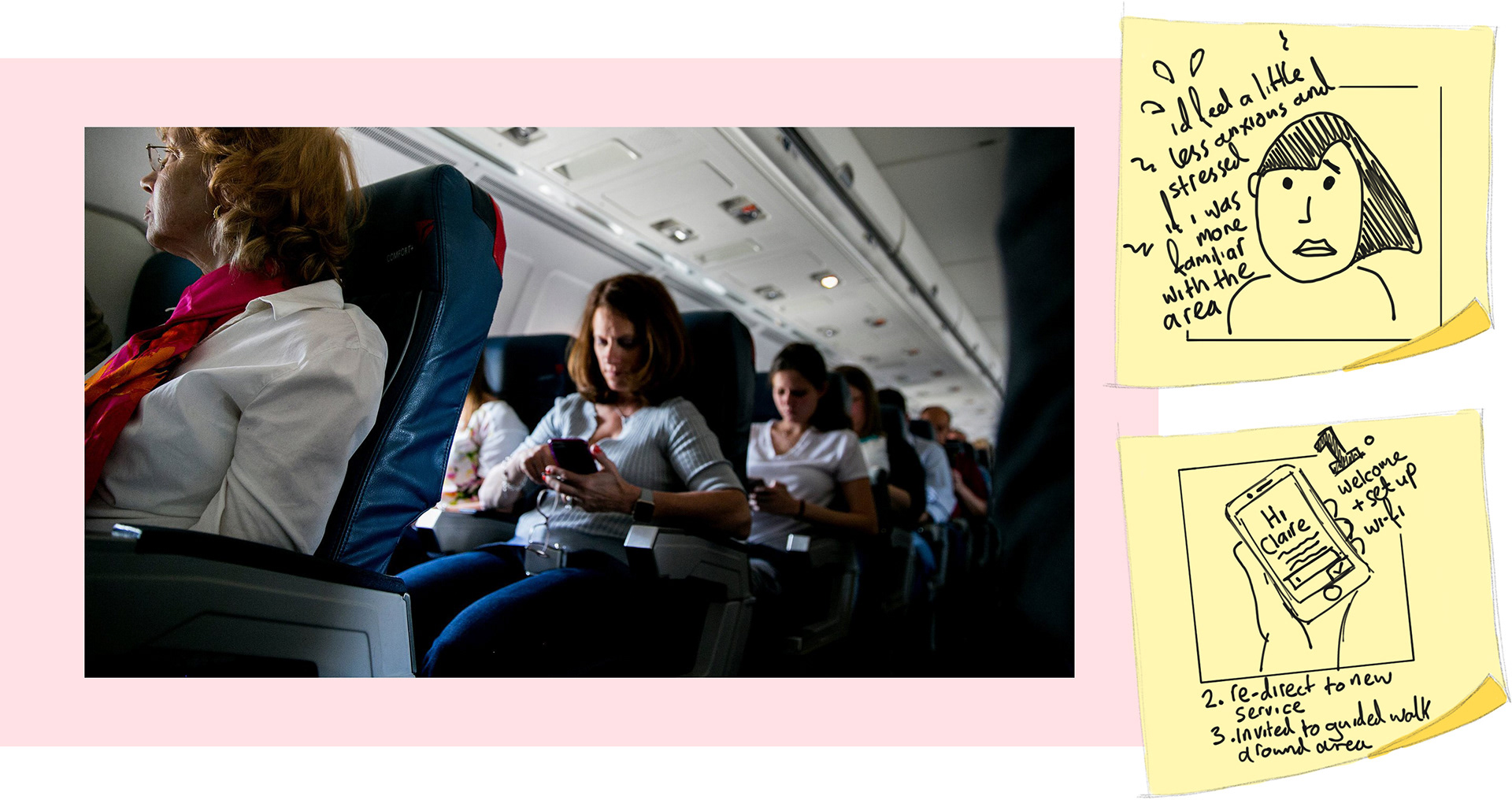 Thinking and studies from businesses and research firms including
Google
and
Phocuswright
respectively. Has uncovered that business travellers are increasingly showing a preference to book their own travels apart from their companies travel tools. For these travellers it's all about getting the best deals, looking for unique places to stay and collecting reward points. Led by a generation of people use to everything being available at their fingertips there is also an increased preference for these tools to be on mobile devices.
One of my key roles during the project as to script and conduct both our user interviews and testing. Key in doing so was to structure open ended questions that progressively dived deeper into why people book experiences, how they went about doing so and what made them want to come back and do so again. Practicing active listening and only probing with why? When there were further insights to be found.
Useful, Usable, Desirable 
What should the service actually do?
I know about about the larger tourist experiences before I have even arrived at my destination but for the smaller moments you never really know until you arrive whats there.
I ask the concierge for recommendations because I want to avoid walking to far from the hotel and not finding what I'm looking for.
I search nearby on my mobile device because it allows me to see images and read reviews both of which help me avoid bad experiences.
I look for images, reviews and information rich descriptions because I am anxious about the experience being bad.
If It's something I need to book in advance I will look for information on days and times to avoid the frustration and disappointment of something I'm interested in being unavailable.
Throughout the process is was always important to put our in front of others as soon as possible to gain fresh perspectives. Our product manager led daily design critiques to discuss our design direction. 
A key iteration of our solution was in the information architecture of the design. There was a fine balance to be struck between creating excitement for the services use through rich imagery and informative copy; and creating a clear call to action that would pull a customer through to their next step in booking.
​​​​​​​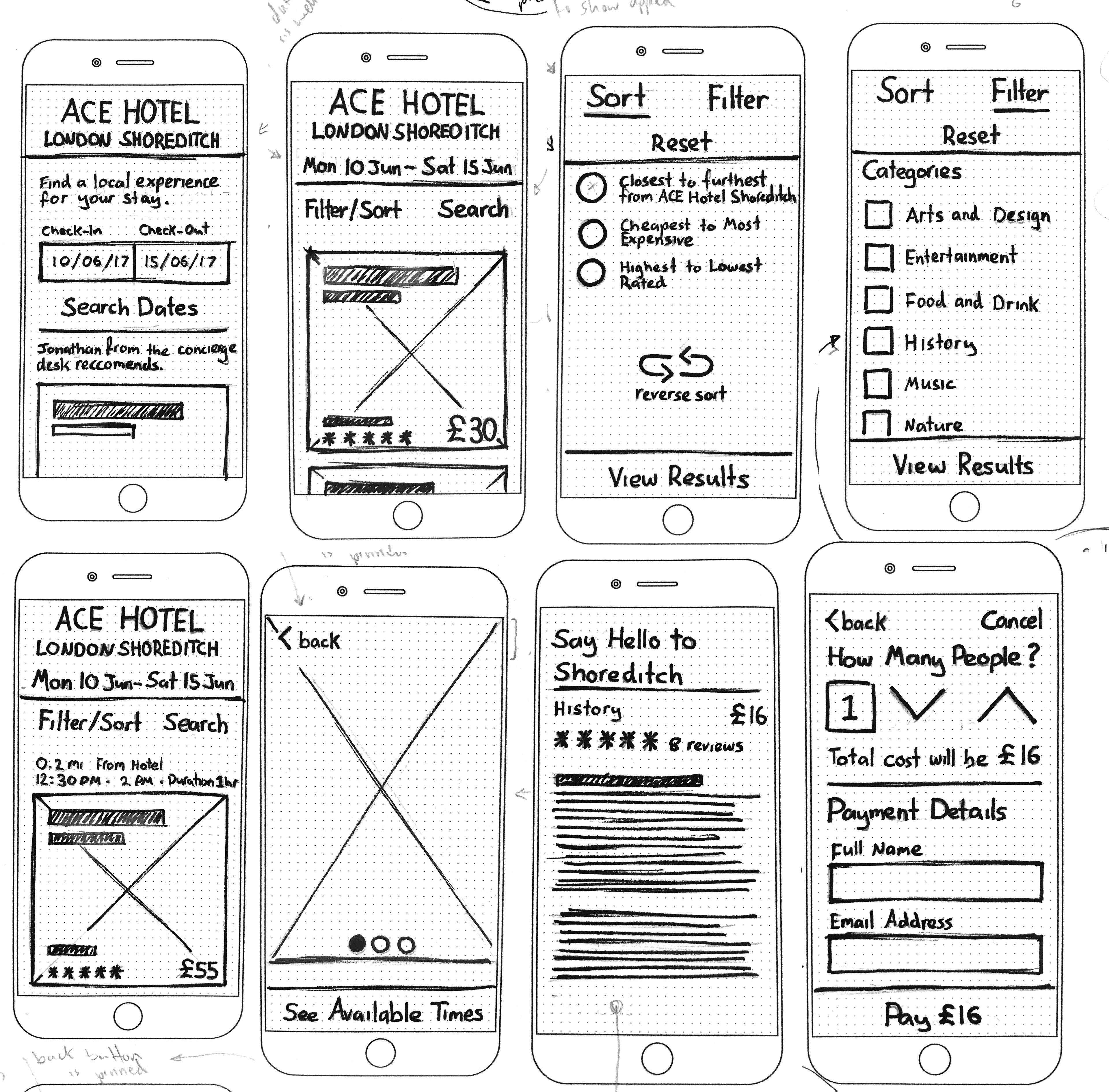 We analysed competitors to see what solutions were already out there and what they were doing well and not so well. This helped us better position the value of our service as an alternative while at the same time understanding what customers may already expect of an experience booking tool. A key discovery during this analysis was that there was minimal control available in these current services when it came to filtering search results based on time and day.
The decision to focus on a responsive mobile first website over a native app will allow us to reduce our development time and cost. It also means we will be able to get this service into the hands of customers faster to get real world feedback in the form of both qualitative and quantitative measures including click through rates on our primary call to action and UX health checks conducted to ensure our direction remains user centred. It removes an initial roadblock of having to download the app for the customer. 
Key in this decision is a focus on the primary purpose of the service and creating high contrast with interactive elements so that the customers next steps are clear when interacting with the service while potentially taking part in another daily task drawing their attention.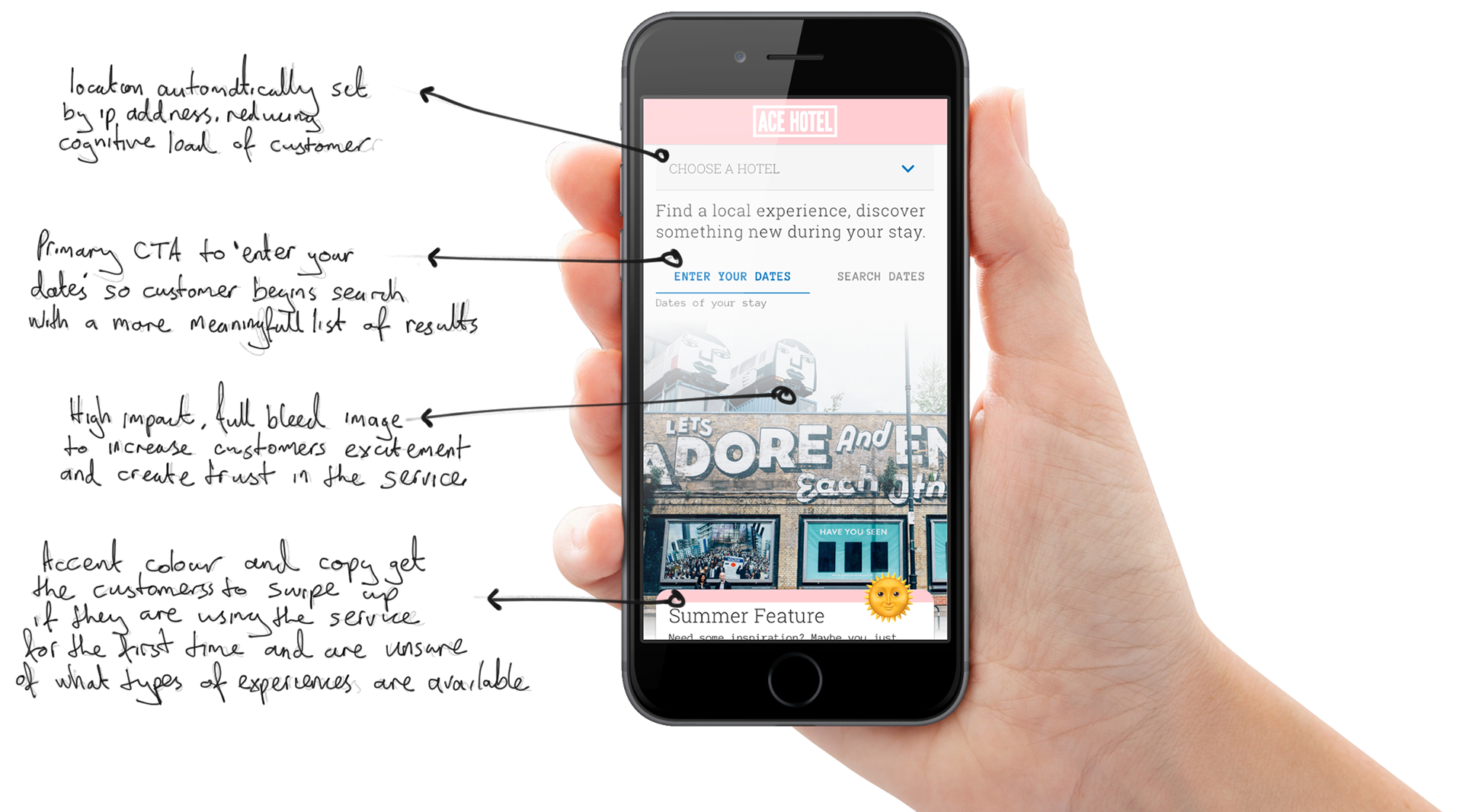 The final solution drove customer engagement by focusing on date and time at the start of the journey. This removed the possibility of the customer hitting a roadblock and having to go backwards in the booking process by avoiding discovery of experiences not available during their stay. We also reduced the steps required in booking the experience by saving and smartly using these details to help the customer book in as few actions as possible. A visual style guide and 8 point grid standardised our design process and enabled the team to more easily collaborate on the final high fidelity wireframes. 
ACE Hotel Experiences
Discover Something New During Your Stay